The International Village project was designed to enhance Ellice and Sargent Avenues, between Arlington and Balmoral Streets. A grant was offered to businesses located within these boundaries, which saw the BIZ and the business cost-share storefront improvements. Businesses qualified for grants by making exterior enhancements that increased the appeal of their storefront and showcased a specific ethnicity or culture.
As the cornerstone of this project, the dramatic International Village Gateway Feature has been completed! Located on Ellice Avenue between Spence and Balmoral Streets, the global-themed entranceway welcomes visitors to the West End. Elements include decorative paving, flagpoles with metal flags offering "welcome" in 16 different languages, banners and landscaping along the median that includes coloured rubber mulch, a decorative barrier and plants and flowers. The Gateway Feature serves as a true West End landmark, inviting everyone to explore the shops and services of the multicultural West End!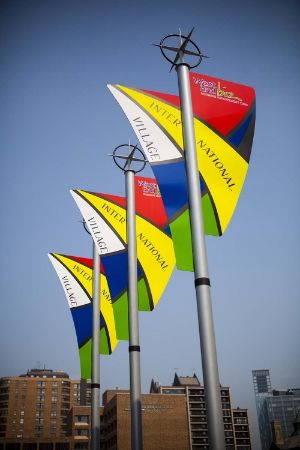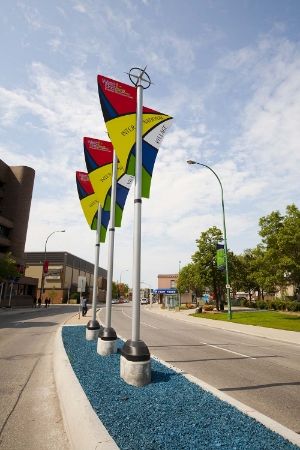 The adjacent Saigon Park also received a facelift as part of these improvements. Changes included refreshed wood chips, wooden posts and the removal of diseased trees. New street furniture and an updated sign were also added to create a welcoming environment. A mural was commissioned as part of the project. "The Real League of Nations" emphasizes soccer's international appeal and the power that sport has to bring the world together. Further murals were also painted on electrical boxes wihin Saigon Park. They feature the northern lights.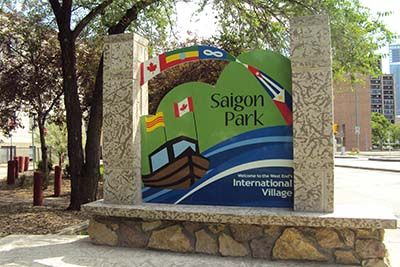 At the corner of Maryland and Sargent a new public seating area was created. It's a great place to watch the neighbourhood go by. The new Community Corner contains a vibrant fencing feature, unique seating and an interactive sundial.